Internet forums in 2018: are they really dying?
In the introductory post to this series about the state of internet forums, I mentioned that, to me at least, forums felt like a relic of the past, a medium many internet users will never experience, and that many forums were seeing a downwards trend in the amount of activity in the past few years. But is this just a personal feeling supported by anecdotes, or is this really a general situation?
In the previous post, I also said that these posts would be subjective texts posted to a personal blog, not scientific studies. However, I thought it would be interesting to use these posts to do some introspection and try to understand where this feeling that "forums are dying" comes from. After all, it might just be that I and my circle of friends are abandoning forums, and (in a possibly correlated way) the forums we used to frequent are also dying, while the big picture is quite different. There's also the possibility that this trend is limited to certain cultures, regions of the world, or specific forum topics/themes.
To do this "introspection", I'll be going through some of the forums I know about, and maybe even some I don't know about, to see how they are doing. I have good news: you can completely skip this lengthy post and you probably will still enjoy the rest of the series. Yeah, this series will still be primarily anecdote-based, but at least we will have looked at a slightly larger number of anecdotes – and we will have taken a deeper look at them. Yay for small sample sizes. Let's start with the ones I know about.
This forum was founded in April of 2010, and it is the first forum I remember being a part of, although I know for sure I signed up for other forums before that one – also related to web hosting, I just don't remember their name anymore, and I'm sure that they have not been online for years now. I was one of the first 20 members of that forum, and I ended up being a quite relevant member, because I was a moderator there for over a year, between 2011 and 2012 (or even the start of 2013). I actually got through some "drama" together with the rest of the team, involving forum ownership/administration changes.
I put "drama" in quotes, because to this day I'm still not sure whether the things we were seeing as extremely serious threats were actually that serious… keep in mind that, at the time at least, most of the staff was under 20, perhaps even under 18. I know that at some point legal paperwork was flying around against us, someone wanted to trademark FreeVPS and take the forums from us, or something like that. Now I find all of this a bit cringe-worthy, but I learned quite a lot of stuff (from systems administration, to project management, time management and other soft-skills). Anyway, let's set the nostalgia aside…
This was actually the first forum I "abandoned", in the sense I stopped going there as frequently or participating there as much as I initially did. And thus it was only while I was "researching" for this post that I found out that this community, too, is in trouble. The activity levels are way, way down than back in the "golden days", with what seems to be an average of five posts per day – and sometimes a day goes by without a post. Back in those "golden days", there would be over 100 posts per day, so much that the statistics page of the forum still indicates an all-time average of 73 posts/day.
This one is not dead, it's just… trying to find a way to evolve, maybe reinvent itself a bit, in an attempt to bring back the glory of the earlier days. Founded in 2000 – just barely after I learned the basics of how to read Portuguese (let alone write English) – Cemetech (pronounced KE'me'tek) is a community focused on graphing calculators and, to a lesser degree, DIY electronics, and other… nerd stuff. At least, this is how I saw it back when I joined in November 2011. To be fair, of all things this community had to offer and discuss, I really only ever cared about Casio Prizm discussions. After I moved on from Casio Prizm development – and at a time when forum activity was already decreasing – I tried to foment discussions on my Clouttery project, with mild but disappointing success.
Cemetech is a bit of a strange beast because, at least in my view, it hinges a bit too much on the interests, activities and projects of its founding member KermM and other staff, which to me at least, always seemed to be close friends with each other. For one example, I felt like a lot of attention was given to Casio calculators and especially the Prizm models at a time when KermM was "fed up" with TI for some reason, but once TI started releasing new models, with color screens and other features debuted by the Prizm, Casio calculators were slowly forgotten in that community. I'm sure they didn't do this on purpose – for many years, until the Prizm was launched and caught the eyes of the staff, the community was much more TI-focused than Casio-focused, and it wasn't unexpected to see it return a bit to its roots. Perhaps I should rephrase my sentence where I said it hinges too much on the staff's interests… what I mean is, the staff there used to be a discussion promoter, posting a lot on every thread; since KermM kind of left to pursue his PhD and then to be a founder of a startup, Geopipe, activity levels took a hit – at least, and again, from my point of view.
This is a quite anecdotal example… not only is the community this "strange beast", it's also focused on the quite niche topic of graphing calculators – even though it always had so many more topics, it was calculator stuff that brought in the most people and the most posts. As a hacker's platform, graphing calculators are dying, due to new exam regulations in multiple countries imposing restrictions on their hardware and software, and sometimes doing away with this kind of calculators entirely.
It isn't surprising that a forum about a dying niche subject would be dying. Cemetech now seems down to about 40 posts per day… wait, that doesn't seem very low. But if you look at the forum index alone, you'll see that many sections have not even seen a new post in this month, and the number of topics with active discussion seems much lower to me than it once was. Oh well, maybe it's just me – this is a subjective blog post, after all.
Yet another community focused on graphing calculators – at least initially. This one is much more recent than most of the communities around this topic, but it too has been struggling with lack of activity. In my opinion, it never had that much activity to begin with, but there's no doubt it went through some rough months – fortunately, it seems to be speeding up a bit now.
CodeWalrus was founded in October 2014… and I'm not sure how to explain this, and I'll probably get it wrong, but it was founded by people previously associated with Omnimaga (yet another calculator community) – including its founder – but who no longer wanted to be involved in Omnimaga. This older community is, too, pretty much inactive these days (see stats). As for CodeWalrus, which also has a stats page, things look way brighter. At least, you certainly can not accuse the members of not trying to cheer things up.
Before I move on to talking about another forum, note how I said that CodeWalrus was initially more focused on graphing calculators (by virtue of the interests of the members, not because that was the topic imposed by the administration). Well, their strategy – from the very first day – for catering to people with other interests seems to have paid off. A brief look at the active topic lists shows no posts related to graphing calculators… wow.
I don't think this community needs to be introduced to my readers. It's a giant community and I can't quite take its pulse, unlike what I did with the other anecdotes in this post. With over eight million members, its scale is completely different from the other forums I mentioned so far. It isn't a dying forum, and that's why I brought it here: to show that definitely not all forums are dying. Or maybe only big forums survive? We shall look into that in future posts.
This forum might not be dying, but it could still be interesting to see whether the variation in number of posts and sign-ups is positive or negative. I searched, and searched, and could not find a live statistics page, or any up-to-date report. With a forum so big, it's quite possible that computing these kinds of statistics in a real-time fashion is simply unfeasible. However, certain forum views still show the current totals at the bottom. With the help of Internet Archive's Wayback Machine, we can plot stuff over time…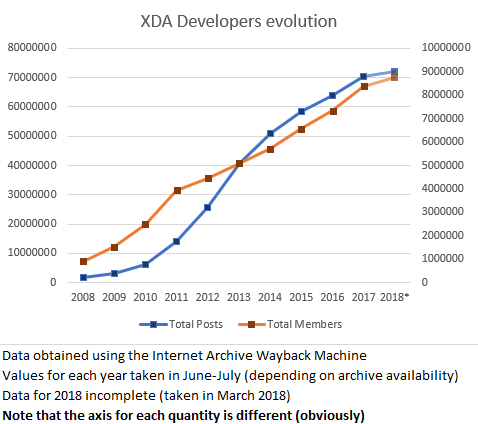 Take from that what you will… but its growth doesn't seem to be decelerating, even if it apparently isn't as active as it was in 2012-2013. It could also have happened that despite the slight decrease in the speed at which new posts are added, the quality of the discussion has improved, with an overall better result.
Still on the big forums league, SkyscraperCity – a community with about one million members and over 100 million posts that claims to be the world's biggest community on "skyscrapers and everything in between", founded in 2002. In practice, it's a forum about urbanism that, along many international discussions, also hosts some regional sub-forums where all kinds of stuff is discussed. For example, in the Portuguese forum, you can find topics ranging from architecture and urbanism to transportation and infrastructures, and also general topics about what's going on in the country as well as completely off-topic stuff like discussion about what's on TV. It is at SkyscraperCity that you can find the most forum-based discussion around the Lisbon subway, for example – with over 3000 posts per year about that subject alone.
I only participate, precisely, in the Lisbon subway discussions at that forum, so even though I vaguely know about the other sub-forums and topics, I have no idea if the forum is more or less active than it used to be. Using, again, the Wayback Machine, let's take a look at the evolution in the number of members and total posts in the last 10 years.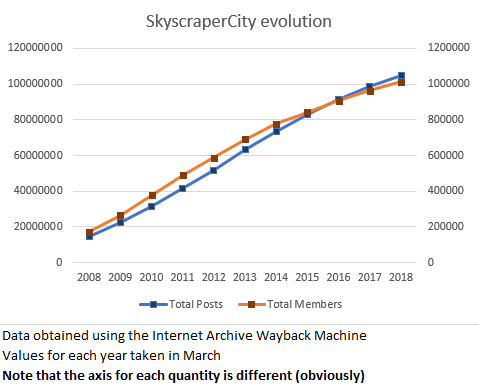 This graph is even less interesting than the XDA one. The number of members and posts has been growing essentially linearly. There is a slight deceleration in the last three to four years, especially in the member count, but that could be due to better spammer detection systems (something as simple as a better captcha system could have that effect).
SkyscraperCity is yet another forum that, despite using antiquated software and not having the best availability or reliability history, doesn't seem to be going anywhere. It isn't displaying "exponential user growth" like investors and shareholders like so much to hear. But hey, one of the nice things about forums, is that generally they don't need to boost user counts like that, because they don't typically have shareholders to report nice numbers to.
Looks like we're back to the subject of web hosting. LowEndTalk is the discussion forum of LowEndBox, a website that lists deals on low-spec virtual and dedicated private servers. I never participated or followed this forum in any way, but I have known about its existence and have had a good idea of its "dimension" for almost as long as I have known about FreeVPS.
LowEndTalk makes my job a bit hard because, as far as I can see, they don't list the total number of members nor the total number of posts anywhere. Fortunately, they do show the total number of threads (or "discussions", as their forum software calls them), rounded to the nearest hundred. Let's see if we can get any sort of trend out of this. Wayback Machine to the rescue…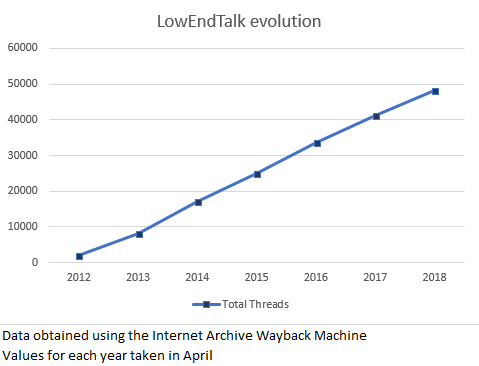 Judging by the thread counts alone, looks like LowEndTalk is yet another forum that isn't going anywhere, with over 7000 new threads being added each year. The chart gives the impression that growth is slightly more linear than it actually is: the rise in the number of threads is actually slowing down a bit, from an average of about 8700 threads/year in 2013-2015 to about 7500 threads/year from 2015 to the present. Nothing to worry about.
You might be wondering why I brought LowEndTalk here, since it's not an especially big or especially well-known forum, and it's not a forum I frequent, either. The reason is that during my "research" for this post, a few things caught my eyes when looking at LowEndTalk.
For a start, their forum software (Vanilla Forums) is not one I commonly see in the wild, or at least one that I recognize – despite the fact that according to Vanilla Forums, they are "Used by many of the world's leading brands". At least in its LowEndTalk incarnation, it is extremely "clean", simple and still good looking. It's not "responsive" web design, but it's very readable and fast. It's definitely different from your run-of-the-mill SMF/phpBB/MyBB-powered forum. But is it better? We shall look into this in a future post.
LowEndTalk only became a "traditional forum" in 2011. Before, they were a Q&A website (like StackOverflow, for example) powered by OSQA. Using the Wayback Machine, it's easy to see that some of the hot topcis were discussions about moving from OSQA to something more appropriate to their needs. Therefore, this community has yet another interesting quirk: they were not born as a "traditional forum", they actually moved into one after the community was already bootstrapped and a Q&A model was deemed inappropriate.
LowEndTalk have recently set up a Discord "server". Unlike what seemed to be the plan at CodeWalrus at one point, it is apparently not their intention to move discussion out of the forum and into Discord. Still, I think this is an interesting point for a future post about forum alternatives – what are people moving to, after all?
Including this one here is pretty ridiculous, but I thought I'd do so anyway, even if only as some sort of honorable mention to the thousands of small forums hosting communities of developers and users of open source projects. I feel that these kinds of forums, along with self-hosted issue trackers (such as Flyspray or Trac) were a much more common sighting in the distant past before GitHub.
Anyway, what is Rockbox and their forums? Rockbox is an open-source firmware for that ancient thing smartphones made us forget about, the MP3 player. You know, of the old-school iPod-with-clickwheel kind.
I used Rockbox for a couple years on the 2nd iPod Nano my parents won in some sort of raffle and which they never really heavily used. iTunes made it a PITA to use it; my family (unlike me) isn't that much into listening to music and maintaining a music library; and finally, my dad was into PDAs and Pocket PCs way before the iPhone even launched.
For us, the thought of playing music on a MP3 player was already kind of strange even when that iPod was brand new – why go through the hassle of using iTunes, transcoding music files, having to charge and carry around yet another device… when we could just take a full-size SD card, insert it into one of these ginormous Pocket PCs (which also made phone calls) and listen to our existing MP3s and WMAs (no M4A transcoding required!) using Windows-freaking-Media Player on Windows Mobile (or any other player of our liking, since those phones could run arbitrary EXEs compiled for Windows Mobile, and many player application alternatives existed).
Anyway, to finish telling yet another personal story of my life: I found out about Rockbox at a point when the iPod was already forgotten in a drawer. Long story short, that iPod got 500% more use ever since I installed Rockbox on it. Rockbox can even run Doom and has a Gameboy/Gameboy Color emulator, how awesome is that? (And no, Rockbox is not Linux-powered, but there was a separate project which ported Linux to some older iPods.) Sadly the capacitors on my iPod's screen have failed and only 30% of the screen is readable now, making it a bit hard to use the device.
I would still use that iPod to this day if it weren't for that malfunction (which I don't feel like spending $10 on a new screen to fix): the iPod has just 4 GB of storage, but Rockbox can play Opus, the awesome audio format that's simply the best in terms of quality/filesize ratio (and I hope this sentence will look extremely dated in 10 years). I can fit the relevant part of my music library in there by converting over 10 GB of high-quality MP3, M4A and FLAC into less than 4 GB of Opus at 96 kbit/s – which sounds great.
Rockbox, as you might guess, is pretty much dead these days. It never got to the point where it supported the most recent MP3 players or the latest iPod models, thanks to Apple and their locked bootloaders. MP3 players became a niche/audiophile product as people moved on to smartphones and the demand for them dropped; the prices went up as a result. Perhaps most importantly, if it weren't for the fact that it could support more devices, Rockbox is a finished product: it can play any relevant music format (including tracker music), it has everything you could possibly want from a music player in terms of sound effects/adjustments, playlist control and library browsing. And now for something that might take you off-balance: Rockbox is a project by Haxx – yes, the same Haxx of the extremely popular and successful program curl! In fact, there is a noticeable overlap between both development teams. Both are awesome pieces of software.
I just realized this post was supposed to be about "forums" and not "alternative firmware for embedded devices and opinions about sound formats"… shit. Anyway, Rockbox is dead and, surprise! the forums are pretty much dead too, for obvious reasons – it would be quite interesting if the forums outlived the open source project they were built around, but it doesn't seem like this will be the case, and I never saw it happen.
Conclusions
Maybe forums aren't dying left and right like I thought they were. But they don't seem to be growing as fast as the rest of the internet. IDK, at this point I'm just making stuff up because I don't know how fast "the internet" grows. Perhaps it has to do with that shareholder thing, forums don't usually have to report inflated numbers to anyone. Or maybe people are really locked down inside the bubble-decorated walled-garden of the EVIL ZUCC. Yeah, let's pretend that is the case, so that my plans for the following posts are not completely foiled. As for this pointless anecdote-based post, its end is here.
BTW: did you know I started working on this post on the 7th of March… only to leave it rotting unfinished since the 9th of March… and finally finish it today? But it's fine: this way, I could include a ZUCC reference while people are still outraged at Facebook, and before they go back to using it again happily ever after.